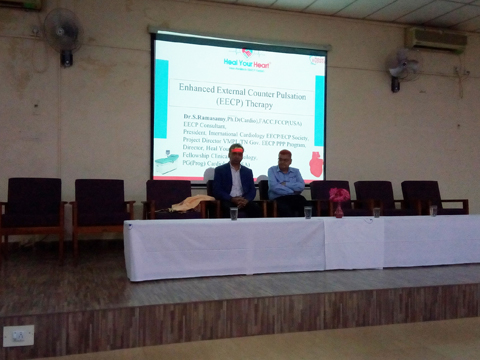 Neyveli Lignite Corporation (NLC) India Limited is a 'Navratna' government of India company in the fossil fuel mining sector in India and thermal power generation. They have conducted an education program on the Non-Invasive Enhanced External CounerPulsation (EECP) treatment role in clinical cardiology and future direction for their doctors at its muti specialty hospital facility.
NLC Chief Medical superintendent Dr.Munendra Kumar Jha invited Dr.S.Ramasamy President of Internationa Cardiology EECP/ECP Society ( ICES) and renowned EECP expert to conduct the education seminar to increase the awareness of EECP in NLC hospital. The seminar was held on 20th August 2019 on NLC hospital auditorium.
Dr. S. Ramasamy and his team of Heal Your Heart doctors Chennai along with General Secretary of ICE Society Dr.K. Sivaram organized and did the clinical powerpoint presentation. The lecture covered EECP procedure, case selection for EECP treatment, contraindications, the clinical outcome of the daycare treatment in detail. Dr.S.Ramasamy discussed in detail about the evidence and benefit of collaterals formation in heart muscle around the blocked coronary arteries.
During the presentation, a live procedural video about the cuffs applied on patient lower limbs, monitoring during treatment, and the patient response was shown. He has also demonstrated some clinical papers published in Cardiology Journals about the importance of EECP treatment indicated in Angina pectoris and Heart failure.
Finally, healthy interactions were there between Dr. S. Ramasamy and the audience. Multispecialty consultants, Post graduated, students, and health care workers.
We thank NLC authority for giving this informative platform so that people working in NLC would know about this EECP treatment and can avail this Non- invasive treatment for their eligible patients.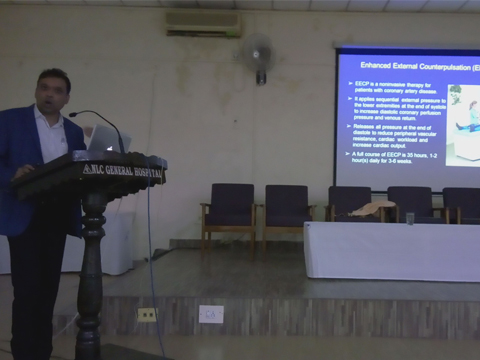 Dr.S.Ramasamy,President ICES society delivering speech on" Role of EECP in Cardiology & future direction"on Aug 20 2019 at NLC Hospital Neyveli Tamil Nadu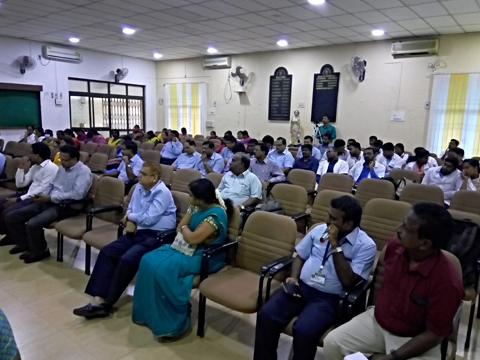 Physicians listening to Speech of Dr.S.Ramasamy at NLC Hospital Neyveli Tamil Nadu